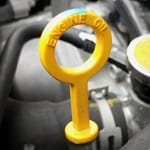 People ask us all sorts of questions at Upstate Auto in Saranac Lake, NY. Many of those questions are related to general maintenance. Customers often wonder why synthetic oil is recommended over conventional oil.
You already know that having regular oil changes is necessary in order to have a vehicle that runs well. When you use synthetic oil, you're offering your engine greater protection. Synthetic oil, which is a man-made lubricant that consists of crude oil and various additives, is quite stable. It can handle all the heat produced by an engine, and it can last a very long time. In fact, when you use synthetic oil, you can go a fairly long time between oil changes.
Synthetic oil has been around since before World War II. Once people started to use it in various vehicles, they found that they performed better. It only makes sense that we would take advantage of this innovation with our own vehicles.