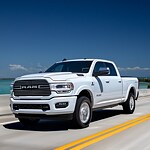 When you've got your eye on a pickup truck, it's pretty obvious that you're looking for something that's going to last a long time. The Ram 2500 is a heavy-duty pickup truck that's brought itself plenty of acclaim for its inclusion of some really solid durability features that we here at Upstate Auto Service & Body Works feel you should know about!
The Ram 2500 carries around a hydro-formed steel frame that's built to be as sturdy and solid a frame as possible. This should help you feel secure the next time you're off-roading. Another feature worth talking about is the Ram 2500's five-year powertrain warranty, which just demonstrates how much faith the manufacturers at Ram have in their own vehicle quality.
If you're raring to try out one of these vehicles, then come by Upstate Auto Service & Body Works so that our accomplished team can set you up with a test drive of the heavy-duty Ram 2500 pickup truck!